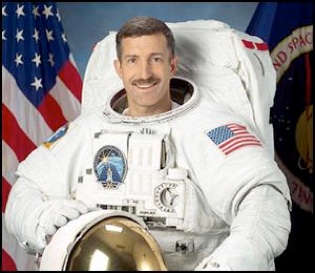 NASA Astronaut / US Coast Guard Captain
FAVORITE CHILDREN'S BOOK:
"Tom Sawyer" by Mark Twain
FAVORITE FOLK-SONG:
"Oh Susanna"
PERSONAL DATA:
Born July 27, 1961 in Manchester, Connecticut, but considers Yarmouthport, Massachusetts, to be his home. Married. Two children. Enjoys running, skiing, hiking, sailing, amateur astronomy, playing guitar. His parents, Dan and Joan Burbank, reside in Tolland, Connecticut. His sister, Suzanne Burbank, resides in Fort Myers, Florida.
EDUCATION:
Graduated from Tolland High School, Tolland, Connecticut, in 1979; received a bachelor of science degree in electrical engineering from the U.S. Coast Guard Academy in 1985, and a master of science degree in aeronautical science from Embry-Riddle Aeronautical University in 1990.
ORGANIZATIONS:
American Institute of Aeronautics and Astronautics; Association of Space Explorers; National Space Society; Order of Daedalians; U.S. Coast Guard Pterodactyls; U.S. Coast Guard Academy Alumni Association.
AWARDS:
NASA Exceptional Service Medal, NASA Space Flight Medals (2), Defense Superior Service Medals (2), Air Medal, Coast Guard Commendation Medals (2), Coast Guard Achievement Medal, and various other service awards.
SPECIAL HONORS:
Awarded the Orville Wright Achievement Award by the Order of Daedalians as the top naval flight training graduate during the period January 1 to June 30, 1988. Awarded Texas Society of the Daughters of the American Revolution Achievement Award as the top Coast Guard graduate of flight training for the year 1988.
EXPERIENCE:
Burbank received his commission from the U.S. Coast Guard Academy in May 1985, and was assigned to the Coast Guard Cutter Gallatin (WHEC 721) as Deck Watch Officer and Law Enforcement/Boarding Officer. In January 1987, he reported to naval flight training at Pensacola, Florida, and graduated in February 1988. Burbank was then assigned to Coast Guard Air Station Elizabeth City, North Carolina, where he became an Aircraft Commander in the HH-3F Pelican and then an Aircraft Commander/Instructor Pilot in the HH-60J Jayhawk. While at Elizabeth City, he completed training in Aviation Maintenance/Administration in preparation for assignment as an Aeronautical Engineering Officer. In July 1992, Burbank was assigned to Coast Guard Air Station Cape Cod, Massachusetts, as the Rotary Wing Engineering Officer and HH-60J Aircraft Commander/Instructor Pilot. In May 1995, he was assigned to Coast Guard Air Station Sitka, Alaska, as the Aeronautical Engineering Officer and HH-60J Aircraft Commander.
Burbank has logged over 4,000 flight hours, primarily in Coast Guard helicopters, and has flown more than 1,800 missions including over 300 search and rescue missions.
NASA EXPERIENCE:
Selected by NASA in April 1996, Burbank reported to the Johnson Space Center in August 1996. After completing two years of training and evaluation, Burbank worked technical issues for the Astronaut Office Operations Planning Branch, and the International Space Station (ISS), and served as CAPCOM (spacecraft communicator) for both Shuttle and ISS. He was also a member of the Space Shuttle Cockpit Avionics Upgrade design team. Twice flown, he served as a mission specialist on STS-106 and STS-115 logging over 23 days in space, and 7 hours and 11 minutes of EVA time. Burbank is currently a Professor of Engineering at the U.S. Coast Guard Academy in Connecticut, where he teaches Astronomy, Aerodynamics, and Statics & Engineering Design.
SPACE FLIGHT EXPERIENCE:
STS-106 Atlantis (September 8-20, 2000). During the 12-day mission, the crew successfully prepared the ISS for the arrival of the first permanent crew. The five astronauts and two cosmonauts delivered more than 6,600 pounds of supplies and installed batteries, power converters, oxygen generation equipment and a treadmill on the ISS. A space walk was performed to connect power and data cables between the newly arrived Service Module and the ISS.
STS -115 Atlantis (September 9-21, 2006) successfully restarted assembly of the ISS. During the 12-day mission, the crew delivered and installed the massive P3/P4 truss, and two sets of solar arrays that will provide one quarter of the station's power. The crew also performed unprecedented robotics activity using the Shuttle and ISS robotic arms. Burbank made one EVA that completed truss installation, activated the solar alpha rotary joint and enabled the solar arrays to be deployed.