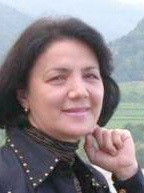 Professor of Contemporary Music / Composer
Mrs. Franghiz Ali-Zadeh was born in Baku , Azerbaijan on May 28, 1947. She studied the piano and composition at the Baku Conservatory, graduated as a pianist in 1970 and as a composer in 1972. From 1973-1976 she was Gara Garaev's research assistant, and in 1989 completed her doctoral thesis, "Orchestration in Works by Azerbaijani Composers".
In 1976 she began to teach musicology at the Baku Conservatory, becoming a Professor of Contemporary Music and the History of Orchestral Styles. From 1993 to 1996 she conducted the choir of the opera house in Mersin , Turkey , and subsequently taught the piano and music theory for two years at the Mersin Conservatory.
Mrs. Franghiz Ali-Zadeh participated in Yo Yo Ma's "Silk Road Project" with her composition "Dervish". The Kronos Quartet produced a CD devoted exclusively to Mrs. Ali-Zadeh's compositions. Mrs. Ali-Zadeh was awarded an "Artist for Peace" title by UNESCO in April 2008.
Photo from www.silkroadproject.org