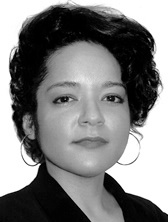 Composer
FAVORITE CHILDREN'S BOOK:
"Why Am I So Brown" by Trinidad Sanchez
FAVORITE FOLK-SONG:
"Rios Profundo (Deep Waters)"
Identity has always been at the center of Gabriela Lena Frank's music. Born in Berkeley, California, to a mother of mixed Peruvian/Chinese ancestry and a father of Lithuanian/Jewish descent, Frank explores her multicultural heritage most ardently through her compositions. Inspired by the works of Bela Bartók and Alberto Ginastera, Frank is something of a musical anthropologist. She has traveled extensively throughout South America and her pieces reflect and refract her studies of Latin-American folklore, incorporating poetry, mythology, and native musical styles into a western classical framework that is uniquely her own. She writes challenging idiomatic parts for solo instrumentalists, vocalists, chamber ensembles, and orchestras. Moreover, she writes, "There's usually a story line behind my music; a scenario or character."
While the enjoyment of her works can be obtained solely from her music, the composer's program notes enhance the listener's experience, for they describe how a piano part mimics a marimba or pan-pipes, or how a movement is based on a particular type of folk song, where the singer is mockingly crying. Even a brief glance at her titles evokes specific imagery: Leyendas: An Andean Walkabout; Cuatro Canciones Andinas; and Ríos Profundos. Frank's compositions also reflect her virtuosity as a pianist—when not composing, she is a sought-after performer, specializing in contemporary repertoire.
In 2009, Frank was awarded a Guggenheim Fellowship on the basis of stellar achievement and exceptional promise for continued accomplishment.
Biography and Photo from www.silkroadproject.org